Blog
Friday 11th October 2013
I was delighted to be invited to attend the 2013 GSWS in New Delhi last weekend, where this year 350 senior spa executives from around the globe met to positively impact and shape the future of the global spa and wellness industries. We were honoured by the presence of His Holiness the Dali Lama who, for two hours, addressed the group and had an informal Q&A session with us.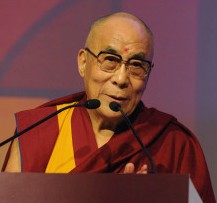 The spirit of the GSWS aspires to being "one of shared purpose rather than individual gain. It is an opportunity to put aside competitive egos and personal business agendas with time and a place for delegates to join together to exchange ideas, debate, and strategize for the good of the industry, the consumers we serve, and the planet we share."
This year's theme was "A Defining Moment". Speakers shared several inspiring defining moments, some personal and others corporate, most related to charitable work or attempts to improve the chances of our planet's survival – while still running a successful business. I think most delegates would agree that the audience with the Dali Lama provided us all with at least one personal defining moment. Wellbeing was the topic and he feels strongly that inner happiness is the root to personal wellbeing. Neither success with material gain nor endless external treatments or experiences is enough – it must come from within. In his view parental love in one's early years often offers the best start to feeling and growing with true inner happiness and wellbeing.
I came away from the summit feeling I had experienced at least 2 defining moments. The first being personal and the second associated with the development of SpaStaff. The Dali Lama is a human being who, wherever he goes, is treated with the most "God Like" care and attention – and yet he continuously preaches that he is just a simple man, with a quirk of destiny. He has every reason to have airs and graces, but he doesn't. He stunned his audience by example, personally demonstrating how all people, especially those in positions of leadership, should behave towards others – with grace, modesty and humility – while chuckling away to himself and with the rest of us for much of the session!
My second defining moment came from the summit itself. Almost 3 years into our new business model, offering an affordable way to self-service online spa recruitment, I arrived at the summit thinking I might be throwing myself into the lion's den, mixing with the global masters of our trade. Unlike His Holiness I feared that I would be given unpleasant truths when asking for thoughts and opinions on SpaStaff's future potential. However the reality was quite the reverse – I was welcomed by the regular community of delegates, listened to, encouraged and supported – even by competitors. The delegates I spoke to confirmed that SpaStaff.com IS the way forward into the 21st century for spa recruitment - thank you GSWS 2013!
Contact Us