Blog
Saturday 28th July 2012
by Sughra Khaliq CEO Ameerah Clothing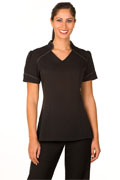 We at Ameerah Clothing advise our salons and spas with their uniform choices and the most frequent question we have to work with is: "which style will suit everyone…?"
We are aware different colours and shapes flatter some and work against nature for others and that you simply cannot please everyone all the time. We try hard and it does happen – but rarely. We usually recommend that the decision maker listens to staff opinions while being firm and confident with the final choice. The uniform must be professional, represent the right image for the business, be within budget and then of course, the team need to look good and certainly feel good while wearing it. In our experience, independent research is important but it can add months onto the final selection. Have a good look online, get some brochures together and try to narrow it down to about 5-6 samples. Most uniform companies should let you have a sample which you can hold onto until you've made a final decision.
Colours can be tricky so your samples should include the usual black, chocolate brown (which seems to suit everyone), a deep red (which also suits many), a nice professional grey and if you are into pink as everybody seems to be these days then find a pink one too. You could push the boat out and have the same design in two colours. Most companies offer most of their designs in a variety of colours. At Ameerah we've done this on many occasions and supplied the same uniform in two colours to the same salon – I recall one particular salon that had red days and grey days!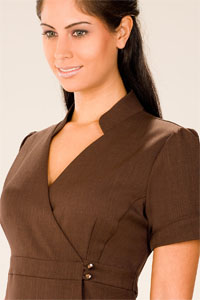 Style wise, the traditional high neck with mandarin collar doesn't do most of us justice so I would avoid this if you have a big team to consider. Anything with a slightly lower neckline will be far more flattering so a v-neck, a wrap over style or a square neck works well. Design and detail is very important so choose simple sleeves which may include some design detail but without splits on the outside edge as these don't seem to last long and the stitching will come out with wear and tear. A flattering band, simple bow or even darts just under the bust will flatter most shapes and sizes and gives tunics an attractive feminine look. Most bog standard tunics with no design innovation will do nothing for most figures – even if you are slim. A tunic with a belt or tie back helps to tailor the garment to the individual.
My final tip is to suggest that the purchaser should always be willing to have a tailor made tunic for the larger therapist. To have a bespoke uniform will make them feel special rather than the odd one out.
Contact Us